by Julie Kanehl
They say that the home's fireplace is a natural focal point, gathering place and a symbol of peace, warmth and tranquility for your family. Builders know this, and even in Florida, fireplaces are one of the most requested items on a homebuyer's checklist. Not because they need the warmth, but because of how important and historic gathering around the fireplace actually is! In Florida, where we don't often need the fireplace for heat, it's the mantel however that steals the show! So what does your fireplace mantel say about your home? Is it majestic? Is it the perfect place to gather around, take milestone photos in front of and decorate each season? It's more likely that your fireplace mantel dates your home. The mantels at Zoho Stone Architectural Products are a style unto themselves!
Imagine a fireplace that is worthy of its reputation, one that would represent your personal style, update your home's aesthetics and even raise its value! When you transform your mantel, you transform your home. Zoho Stone Architectural Products can do that and more using state-of-the-art lightweight, precast fireplace mantels. These incredible, made-toorder and long lasting fireplace mantels are made of gypsum cement, with the addition high-tech composites, glass fiber reinforcement and crushed natural stones, but look like they are meticulously carved stone.
The Zoho Stone Architectural Products showroom, located 34318 US Highway 19 North in Palm Harbor, is the perfect place to visit if you're looking for a unique and impressive way to update your home's hearth. There is an impressive selection of Zoho Stone's fireplace mantels on display, and the staff can personally help you navigate the many choices offered.
Zoho Stone Architectural Products (or Zoho Stone for short) is known as a premier precast architectural elements supplier and has been hailed for their dedication to researching, testing and basically producing a product that is completely unique. In fact, you could say that their approach has revolutionized the industry in weight, cost and artistry. Zoho Stone's factory in California has been creating everything from fireplace mantels to architectural panels for buildings, schools and hospitals since the 1980s, and they ship their products all over the country, and of course, the Tampa Bay Area.
President of Zoho Stone, Michel Zohouri, says, "Our fireplace mantel collection is perfect for the homeowner who wants to remodel or upgrade the look of their old mantel or fireplace. Our mantels create a memorable centerpiece in the home, and the value that it adds to the house is phenomenal." He adds, "Studies have shown that homes with a nice fireplace mantel not only sell faster, but one can recoup up to double the amount that he or she has spent on the addition of a beautiful fireplace by the increase in the added value of their home."
Customers from all over the Tampa Bay Area have come to Zoho Stone for fireplace mantels. Zoho Stone has one of the largest selections of precast fireplace mantels in the country, and each of their mantels is created using a handcrafted mold and perfect for indoor or outdoor use. (An outdoor fireplace by the pool is a remarkable idea!)
Brooke said, "I received my mantel that was custom made for me and it is perfect! The detail work and craftsmanship is amazing. Even the installer said it was one of the best quality mantels he had ever seen."
Let Zoho Stone Create Your Dream Fireplace Mantel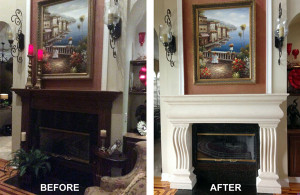 When you visit Zoho Stone, you'll be welcomed by a professional staff, all of whom are eager to help you find your dream mantel, which will work perfectly for your home. With so many design styles, colors and textures to choose from, the hardest part is figuring out which mantel to choose! Michel says, "Our mantels are very detailed, fabricated by hand and most are made to order. We have over 50 designs to choose from and 10 of them are adjustable."
The first step is to determine the size of your firebox, or your actual fireplace insert. That dictates what options you have for design. Between classical, contemporary and modern styles, there are options that are designed to fit your exact taste and fireplace surround.
Michel adds, "We have a foolproof measurement system for determining the size of your mantel."
Next, you can customize your mantel by choosing a color and a texture that best fits your home. Textures include Smooth, Travertine, Sandstone, Aged Stone, and now you can even choose to have a Venetian plaster marbleized design.
Whether you prefer something with smooth, contemporary lines, or you love the scrolls and flourishes of their classical collection, there's a mantel that will speak to you. Some have artistically carved shells, while some feature a fleur-de-lis, yet others have columns and a Mediterranean feel. The options seem truly endless.
The Zoho Stone website also is a great place to start, since it offers you a chance to view their entire mantel catalog. Of course, nothing is better than visiting the showroom and seeing some of them in person. Their mantels are truly remarkable and would make an incredible addition to any home.
The best part is that you can have your completely custom-made mantel delivered in an average of four to six weeks! That means that you can completely transform your living room just in time for the New Year! So, what are you waiting for? Visit Zoho Stone to choose the new mantel that fits your home and your style, because when you transform your mantel, you transform your home.
Zoho Stone Architectural Products, LLC, located at 34318 US Hwy 19 N in Palm Harbor, is open Mon. – Fri., 9 a.m.–6 p.m. and by appointment on Sat. For more information, call 727-230- 6956